Training with a hangboard (also known as a fingerboard) can be a great way to improve your finger strength – especially when it's the limiting factor in your climbing after you've reached a plateau.
We've all been there, you get the climbing bug and start going every week. You're having a ball and the gains are huge!  You're leapfrogging grades every month then suddenly you notice a slow-down.  You've hit the dreaded plateau and you think, what now?  Or maybe you just want to get stronger at home when you don't have time to get out on the wall.
Regardless, it's important to know this before starting:
If you are a complete newbie to climbing or under 16 then it's definitely not a good idea to do any just yet. Finger-training causes a lot of strain and it's very easy to overdo it, injure yourself and not be able to climb for weeks or even months!  Sorry to burst your bubble.  You are way better off just climbing more and improving your finger-strength that way first.
Now what are we looking out for when looking for the perfect hangboard?  There's a couple of things…
What makes a good hangboard?
Good variety of hand grips/positions  You want to be able to work and strengthen as many muscle combinations as possible.  This will also help minimise the risk of overworking and injuring your tendons and ligaments.
Beginner appropriate holds  Not exactly helpful if you find you can't hang off anything!
Mountability  Normally hangboards are screwed onto a wooden backboard before being attached to the wall.  The perfect place is somewhere you can hang freely without your feet banging into a wall in front e.g. over a doorway.  The harder it is to mount, the less likely you are to actually bother doing it.
Price  Area we getting the most we can for our dollar?

Friction.

  Most boards are made out of resin, wood or polyurethane.  They all have decent friction but wood is kindest to skin, resin is usually roughest while urethane is somewhere in the middle.
"As I said, finger-strength is the key physical factor, but not the only. The data I have access to suggest that it accounts for around 20-30% of the factors that have influence over climbing level." – Eva López
Trango Rock Prodigy Training Center
Dimensions:  Each half is 9.1 inch x 12.1 inch
Our top pick was designed by brothers Mark & Mike Anderson who wrote 'The Rock Climber's Training Manual'.  The Rock Prodigy is great for using their style of systematic training with precise and repeatable exercises.  With over 30 distinct grip positions using clever space-saving tactics such as multi-use pockets and variable edge depths, the Rock Prodigy is packed full of features.  It's not often we saw pinches on hangboards so it was refreshing to see two prominent pinches on the Prodigy – designed to isolate the forearm and hand muscles without bringing in the compression chest muscles.
The unique thing about this board is that is comes in two pieces which allows you to mount them whatever width apart you like or even better – mount them on sliding panels to work different widths and therefore different muscles.  A new 2016 edition of the board came out with improved texture for better grip that is also kinder to skin.  There are also little helpful features like small raised bumps inside pockets to help you easily find the same spot every time.  Great for beginners and more advanced climbers alike, this board will continue to be relevant to your training as you improve.  
Metolius Contact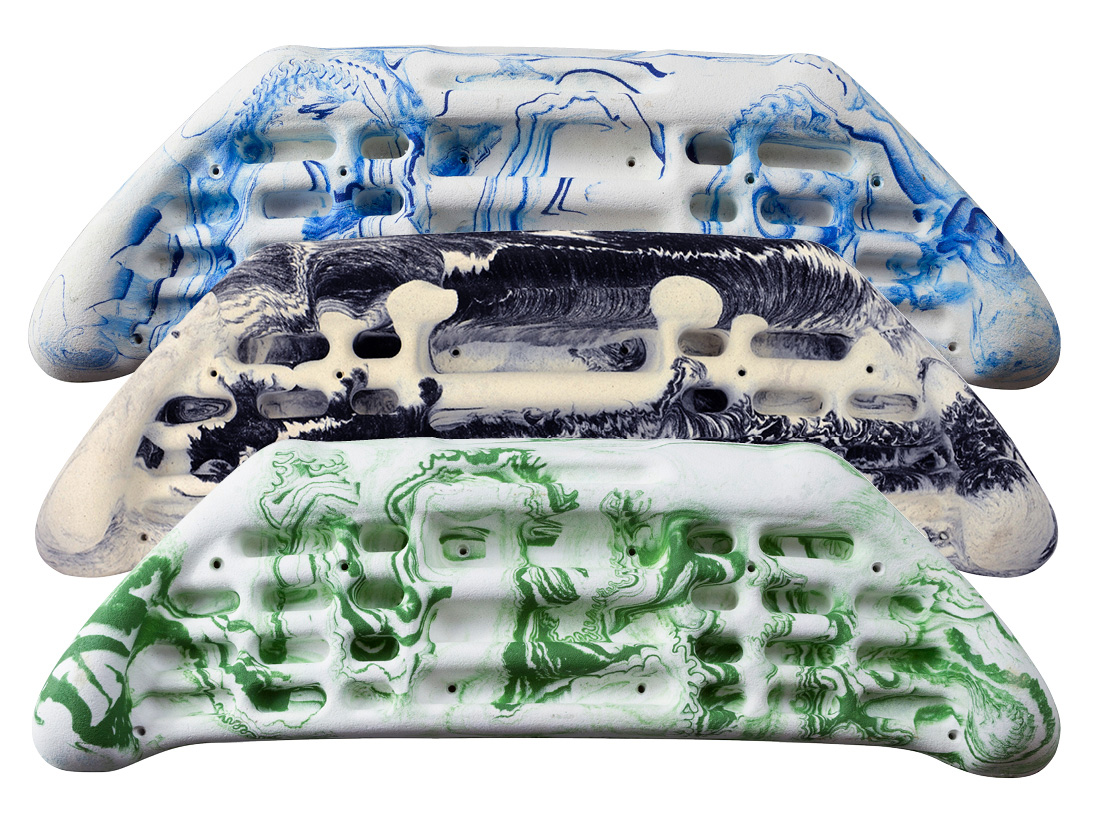 Dimensions:  32.5″ x 11″ x 2.625″ (826 mm x 279 mm x 67 mm)
Popular for good reason, Metolius have created a lot of board for under $100.  With a bevy of hold options including:
11 pockets (2, 3, and 4 fingers – from tips to 2nd joint)
4 central edges
top mounted jugs
rounded and flat slopers
pinches
We loved the two variable width pinches on the side of the Contact.  There's also a good progression of edges from easy to horrendous so you can easily track your progress over time.  Available in 3 colour options, the Contact is on the larger side so best check you have space to fit it though it should fit over most doorways.  This is a great board to see you through to more advanced levels as well which set it apart from the two other Metolius boards we looked at: The Simulator 3D and the Project Training Board which had a more limited range of difficulty.
Beastmaker 1000
Dimensions:  23 in x 6 in x 2.25″
A fine-grained wooden board designed for beginners by this well respected company in the UK.  Though more expensive than it's resin counterparts, the Beastmaker 1000 is worth it if you want to save your precious skin for the wall.  With a great assortment of holds including:
2 Jugs
35 Degree Slopers
20 Degree Slopers
1 Very Deep 4 Finger Pocket
2 Deep 4 Finger Pockets
2 Deep 3 Finger Pockets
2 Deep 2 Finger Pockets
2 Medium 4 Finger Pockets
2 Small 4 Finger Pockets (10mm)
2 Medium 2 Finger Pockets
2 Medium 3 Finger Pockets
More compact than the Metolius Contact, you might prefer the 1000 if you're more limited on space and want something a bit more aesthetically pleasing to mount on your wall.  
Best for analytical types
Dimensions: width 595 mm; height 405 mm; depth 150 mm
Edges: 10 mm, 12 mm, 14 mm, 16 mm, 18 mm, 20 mm, 22 mm and 24 mm.
If you're one of those people who love using science to back your training regime and don't mind paying more then this is the only hangboard so far developed from a doctoral thesis (López-Rivera, 2014).  This isn't just a hangboard, it's an entire methodology based on the research by Dr. Eva López, a well known Spanish climbing coach and PhD.  And yes the training plan comes with the board!  Not for the faint-hearted, this program requires dedication, patience and a certain level of obsessiveness.
Pre-requisites:
You've been climbing for more than 2 years
You can hang an 18mm edge for at least 35 seconds
The board itself is a series of edges of various depths.  Why only edges you may ask?  Eva surmised from her research that it's not the shape of the hold that determines overall load but rather the depth of the edge and the weight being supported on it.  Instead of different hold shapes you use different grip types e.g. half-crimps, open hand etc.  For more information, head over to Eva López's blog:  en-eva-lopez.blogspot.com
Blank Slate Slim Training Board (No Holes)
Perfect option if you are like a lot of people who rent or just don't want to permanently fix anything to their walls.  Blank Slate have quite a few different pull-up bar style door mounting boards that you can then simply screw a hangboard onto.  They aren't cheap but worth it if it means getting back your deposit at the end of your contract.  Not to mention easy to take with you to your new place.  You can even adjust the angle of the board to become more overhanging and more difficult as you get stronger.
Best for ultimate customization
Make your own of course!  If you aren't scared of a bit of DIY and know where your weaknesses lie then you can certainly buy yourself a Blank Slate Climbing Board if renting or a bit of plywood if not and make yourself a great handboard.  You can throw in as many slopers, pinches and horrendoes mono slopers as you'd like as you get stronger!
Something a bit different
Lapis Rollybar
While not really a hangboard, the Lapis Rollybar is still a great addition to your workout area.
It's essentially a fancy and insanely difficult pull-up bar.  With bearings at each end, the bar itself is allowed to rotate freely so when it comes to doing a pull-up you're working hard to fight the rotation.  Great if you want to see gains in your grip, stability and core.
So iLL Boost Board
Dimensions:  24 in x 9.5 in x 2.25 in
A board that just didn't quite make it into the top list but still worth a mention due to its mid-range price and ease of use.  The holds are arranged on rows that get progressively more difficult as you move down so it's easy to track your progress down the board.  Made from urethane and with well rounded edges, the board is pretty comfortable to train on and kind to skin.
So iLL Iron Palm
Dimensions:  27 in x 11.5 in x 4 in
Well priced with a lot of emphasis on sloper training which we liked.  There are even two pinches thrown in there with edges of varying depths.  Not bad if that's all you're after.
And there you have it, may you crush ever harder my friend.
So you want to buy a rope. Great! There's so much choice out there…maybe too much at times. But fret not, Outdoor Wildling is here to provide some simple and straightforward advice on how to find the best climbing rope
Read More »