Welcome climbing newbie to our new series answering the questions asked most by new climbers.  The amount of information out there about the sport can be downright overwhelming.  Here we've put together clear and simple answers to get you started so you can go from this: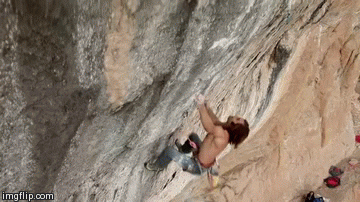 What types of climbing are there?
This type of climbing involves climbing up to a lower height without any ropes.  Once you get to the top you either climb or jump down.  This involves minimal gear, all you really need are climbing shoes and chalk.  You can boulder indoors and outdoors.  When you boulder indoors, you climb on specially formed plastic holds above soft matting.
If bouldering outdoors, you'll also need a crash pad to jump down onto safely (or borrow a friend's!).  When bouldering you can go sideways (called traversing) as well so if you have a deathly fear of heights, you can still have all the strength benefits without the fear of falling.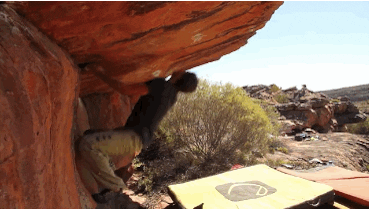 Gear:
Climbing shoes

Chalk

Crash pad (if outdoors)
Again, can be done indoors or outdoors and involves taller walls which means using a rope to catch your fall.  That rope is threaded through an anchor at the top of the wall, you're tied to one end and your climbing partner has control of the other end.  They are there to literally catch you if you fall so make sure you're with someone you can trust to stay focused on you and know how to belay correctly.  Once you get to the top you rappel down.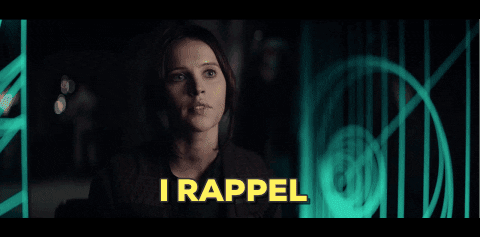 You'll need a bit more gear than bouldering (you can usually rent these at the wall).  
Gear:
Climbing shoes

Chalk

Harness

Belaying device

Rope

Helmet (if outdoors)
Not for complete beginners.  Leading is lot like top-roping, the crucial difference being instead of the rope being anchored at the top before you climb…you fix it to the wall AS you climb.  Because this is a bit more dangerous, you'll need some experience top-roping first.  Once at the top, you rappel down.
Gear:
Climbing shoes

Chalk

Harness

Belaying device

Rope

Helmet (if outdoors)

Quickdraws
Done exclusively outdoors.  A more advanced form of climbing, you still use a rope but instead of attaching your rope to bolts already on the wall, you jam specialist gear into cracks in the rock (anchors) yourself.  This is a whooole other set of skills to learn so you should probably do it after you already have some bouldering or sport climbing experience.
Ways to start rock climbing:
Find a local indoor climbing gym
The easiest way to start climbing is look for a local climbing gym (sometimes called climbing wall).  Just google "indoor rock climbing ______" with where in the world you are. The popularity of rock climbing as a sport has sky-rocketed since the lycra-clad hippies of the 80s and this can be seen in the number of indoor climbing gyms opening all over the world (yay!).
In these indoor gyms, there are often new starter taster sessions for free or for a small fee.  A staff member will usually take you through the basics of how to use the centre safely, read routes and technique basics. You can usually rent rock climbing shoes and chalk there as well so all you have to bring is yourself (these rubber shoes make it much easier to stay on the wall!).  Remember to wear non-restrictive clothing, you want to be able to move freely.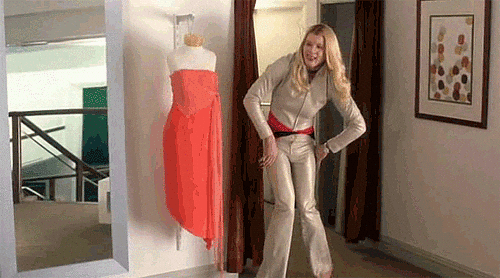 Find a local climbing club
Clubs are often packed full of very keen and friendly people who would likely be happy to help you learn the ropes as you start out.  Try to find someone experienced so they don't accidentally feed you any misinformation.  If you're at college/university they may well have a climbing club already and then you'll have tons of people to go with as well. Handy when you need a belay or a spot while bouldering 😉  (a spot is when someone helps you fall safely when doing a tricky move).  You can find these through a search engine or maybe there's a group near you on meetup.com
Take an introductory climbing course
If you're happy to spend a bit more money you might prefer taking a beginner's course.  This will likely show you the most 'correct' and 'by the book' method of climbing – certainly not a bad thing.  A course will also likely give you a head start compared to other beginners as they go into greater depth when it comes to climbing technique.  A good course will leave you with an action plan afterwards for continued progress.
Hope we've shined some light on the most common ways people learn how to start rock climbing and the types of climbing you can get involved in.
Happy crushing!
So you want to buy a rope. Great! There's so much choice out there…maybe too much at times. But fret not, Outdoor Wildling is here to provide some simple and straightforward advice on how to find the best climbing rope
Read More »